Recycling
What Goes Where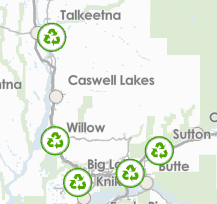 Local Recycling Facilities
Ever wonder where you can take recycling? Or what is accepted at your local center?
Try our
What Goes Where
map to get your answer.
In 2006, the Borough Assembly adopted Resolution 2006-165, "A resolution of the Matanuska-Susitna Borough Assembly supporting a "zero waste" practice for all Borough operations." The Borough Solid Waste Division stands by this commitment as seen in several of its current practices.
"Zero Waste" means you place no waste in your landfill. All aspects of your waste go to some form of reduction, recycling, or a reuse program.
The Borough Assembly invests $54,000 annually into the Borough Recycling Facility, which is run by the non-profit Valley Community for Recycling Solutions (VCRS). In addition, a $150,000 grant is awarded annually to VCRS to help with operating expenses.
The more we recycle, the more value we receive in the form of space in our waste cells that otherwise would have bene taken up by those diverted recyclables. The lifespan of a costly landfill cell is extended by diverting waste. One cell can cost $7 million to build. That one cell costs $5 million to close with about $6 million in operating costs during the cell's five-year life. The total cost to build and operate the cell for 5 years is about $43 million.
A gas and water monitoring component is required by the Alaska Department of Environmental Conservation (ADEC) and the Environmental Protection Agency (EPA). The system includes 36 wells that are mostly monitored quarterly. Monitoring each cell continues for 30 years past cell closure. The monitoring well cost varies for each cell, however, the current system in its entirety is about $420,000 annually.
When large quantities of household waste gather in a cell, leachate is produced. Leachate is the "soup" that results from moisture dripping down through the waste into the bottom. The landfill captures this liquid and hauls it to a treatment facility. Leachate can contain some minerals and heavy metals that exceed water quality standards. Leachate is currently hauled to Anchorage with treatment costs of $475,000 annually. The Borough is proceeding with plans to build its own Septage and Leachate Treatment Facility at the Central Landfill.
Transfer Station Recycling
The Borough, community councils, and local recycling partners joined forces to offer recycling drop off at Transfer Stations. The Borough provides 40-yard containers, which were once destined for the scrap heap. The communities and recyclers find grants to refurbish the containers for recycling. The containers are hauled from the Transfer Stations to the recycling facility by the Solid Waste Division. The Solid Waste Division hauls the recycling containers to the recycling facility to save space in the landfill. Each container averages about 1.5 tons, which equates to 1.5 cubic yards of space saved in the landfill.
Scrap Metal
The Borough segregates scrap metal to be sold. Scrap is stockpiled at the Central Landfill and Big Lake. This includes items such as appliances, barbecues, bicycles, car parts, engine parts or blocks, exercise equipment, lawn mowers, metal tanks, satellite dishes, washers & dryers, etc.
Composting Classes
The Borough offers composting classes free of charge to Mat-Su residents. More information can be found on our Facebook page. Registration is REQUIRED by sending an email to This email address is being protected from spambots. You need JavaScript enabled to view it. or calling 907-795-3722.
Our Goal: Organic matter in the landfill takes up valuable space and creates greenhouse gases. The purpose of this Mat-Su Borough program is to keep this valuable material out of our landfill and reduce our carbon emissions. Our goal is to save you money by reducing waste disposal costs and empower you to transform organic waste into beneficial compost. We provide you free training and a Compost Hotline.
Backyard Composting Classes
Backyard Composting Classes
will teach you how to successfully compost yard wastes, manures, and food wastes; remedy a pile that's too hot, too slow, or too stinky; and produce a matured, high-quality product for gardens and lawns.
Wednesday, May 17, 2023 from 3:00 PM to 5:00 PM at VCRS
Wednesday, May 31, 2023 from 3:00 PM to 5:00 PM at VCRS
Monday, June 5, 2023 from 10:00 AM to 12:00 PM (noon) at VCRS
Wednesday, June 7, 2023 from 12:00 PM (noon) to 2:00 PM at VCRS
Wednesday, June 14, 2023 from 12:00 PM (noon) to 2:00 PM at VCRS
Vermi-Composting (worms) Classes
Vermi-Composting (worms) Classes
will teach you how to successfully start and manage a worm bin; avoid flies and stench; and utilize finished vermi-compost.
Monday, May 8, 2023 from 10:00 AM to 12:00 PM (noon) at VCRS
Friday, May 12, 2023 from 10:00 AM to 12:00 PM (noon) at VCRS
Friday, May 19, 2023 from 10:00 AM to 12:00 PM (noon) at VCRS
Wednesday, June 7, 2023 from 3:00 PM to 5:00 PM at VCRS
Wednesday, June 14, 2023 from 3:00 PM to 5:00 PM at VCRS
Certified Master Composting Classes
Certified Master Composting Classes
are 1-day courses where you'll learn additional compost strategies, and how you can apply these to assist residents, businesses, schools, dog mushers, food services, farmers, stable managers, and organizations to develop scaled-up compost operations. We're asking you to help educate others. We'll review the basics and then discover how to: blend and compost a wider variety of feedstocks for proper C:N ratios; manage and trouble-shoot piles for moisture, temperature, aeration & odor; process larger-scale volumes of compost with static & thermal pile methods.
PREREQUISITE: BOTH Backyard Composter Certificate and Vermi-Composter Certificate required.
Monday, June 19, 2023 from 10:00 AM to 5:00 PM at VCRS
Related
Disclaimer: The below companies are listed for informational purposes only. The Mat-Su Borough Solid Waste Division does not endorse any of these entities nor their services.