Port MacKenzie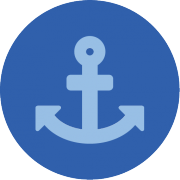 This is the Port MacKenzie Department page. For the Port itself, and services offered there, go to the Port page.
Port MacKenzie
VISION STATEMENT:
Port Mackenzie will grow into a thriving industrial terminal, providing modern, rapid, safe and professional access to worldwide material markets and generating increased revenue and jobs for MSB residents.

MISSION STATEMENT:
To develop a premiere deep-water port capable of safely and efficiently transporting bulk commodities and project cargoes into and out of South-central Alaska for the benefit of our local and global economies.
Port MacKenzie is doing exactly what it was designed to do. Move heavy industrial and bulk materials through Alaska and beyond.
America's northernmost deep draft dock will be connected to rail in 2016.
The rail loop will be the longest industrial loop in the state for efficient offloading from railcar to ship.
14 square miles of industrial area—no other Alaska port has the space.
A recently expanded barge dock and the expansive uplands make Port MacKenzie ideal for large industrial projects and value-added exports.
Contacts
Therese Dolan, Port Operations Manager,
Phone: (907) 861-7799,
Email: This email address is being protected from spambots. You need JavaScript enabled to view it.