FireWise
Homeowners can take effective measures to protect their homes and property. Adopting Firewise principles can reduce your risk of damage or loss to your property and community. It is vitally important for the homeowner to take effective measures that will help their property survive a wildland fire. When wildland fire strikes, firefighters must prioritize their efforts and may not reach every home. A Firewise home is more likely to survive a fire.
Community Wildfire Protection Plan
Go to Plan
In 2007 the borough adopted a Community Wildfire Protection Plan (CWPP) for its entire acreage. It identifies community assets such as schools, fire stations, utilities and other things which would be vulnerable to wildfire. Loss of such assets would be devastating to the community. Hazardous vegetation areas which may fuel a wildfire are identified. Fuel reduction projects were also identified to help protect valuable and vulnerable assets.
The followed on the heels of the 2006 formation of the Horseshoe Lake Firewise Community, near Big Lake. They became the first Firewise Community in the State of Alaska. The community had lost many houses in the 1996 Miller's Reach Fire, which burned approximately 56 square miles as well as over 400 homes and outbuildings. In order to become recognized on the national level, part of their requirements were to create a Community Wildfire Protection Plan (CWPP). It was the first in the Matanuska-Susitna Borough.
Home Ignition Zone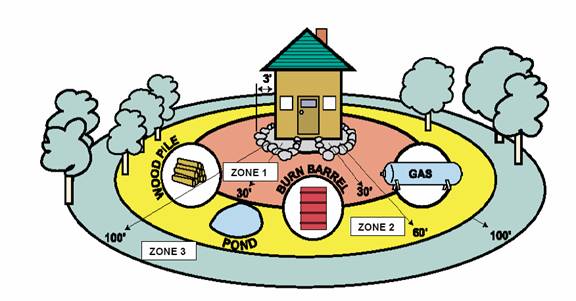 The Home Ignition Zone (HIZ) surrounds a house and may be 100-200 feet. Traditionally broken into three zones, when cleared of flammable vegetation it can become defensible space. Removing or reducing vegetation may prevent the spread of wildfire and home loss.
Self-Assessment Checklist
Within 15 feet of structure
Remove all conifers and dry or dead vegetation
Edge the building with small plants, fl owers or gravel
From 15-30 feet of structure
Thin or clump conifer trees to ~15 feet between extending branches
Prune limbs of mature conifers to 6-8 feet
Remove shrubs beneath trees
Remove all dry or dead vegetation
From 30 - 100 feet of structure (increase distance if slope is >30%)
Thin conifers to 10 -15 feet between extending branches
Thin black spruce in clusters
Prune limbs of remaining conifers to 6-8 feet
Remove shrubs beneath trees
Remove all dry or dead vegetation
General Landscaping
Maintain lawn at 3" or less and keep well watered
Keep trees healthy with frequent watering
Dispose of fl ammable debris from your property
Keep areas under stairs and decks free of debris; Enclose with non- combustible screens
Clean the roof and gutters of needles, leaves, and branches
Provide a 15 foot clearance between your chimney and nearest tree branches
Prune trees in fall for best health - spruce bark beetle reference guide at www.fs.fed.us/r10/spf/fhp
Building Materials
Cap chimney with spark arrester
Roof should be fi re resistant; If not, keep clear of leaves, mosses and lichens
Screen all exterior vents, such as attic openings
Access and Signs
Address marked with refl ective numbers at least 4" high on house and driveway
Clear vegetation alongside driveway and road edge
Driveway should be 12 feet wide with a turnaround for emergency vehicle access
General
Keep garden hoses and fi re tools (shovels, rakes, or pulaskis) readily available
If you have a well, consider installing a pump and generator
Keep storage areas clean; Do not accumulate combustibles such as oily rags and newspapers
Check spark arresters on all motorized equipment; Store 30 feet away from structures or inside garage Hazardous Material
Use non-combustible cribbing for fuel tanks with a 10 foot area cleared around the tank
Stack fi rewood at least 30 feet from house and clear 10 feet around pile
Do not stack fi rewood under trees or on downhill side of property
Fire Plan Inside
Locate nearest fi re station and post emergency numbers by several home telephones
Test smoke and CO alarms monthly and change batteries twice a year; Keep fire extinguisher current
Clean chimney and stovepipe regularly
Identify emergency action plan for entire family & pets
Identify Safety Zone where family meets in an emergency
Prepare emergency supplies for transport (food, water, valuables and important documents)
Articles and Information
Firewise Articles and Info